At neodigital, we're convinced that self-discovery is an essential step in making informed career and personal choices. In this context, Basile Bohard, immersive experience creator and CEO of the studio, has imagined and created the Klub Extraordinaire: an immersive roadshow where light, architecture, sound, interactivity and special effects combine to transform a simple moment of curiosity into an experience with an impact on everyone's future.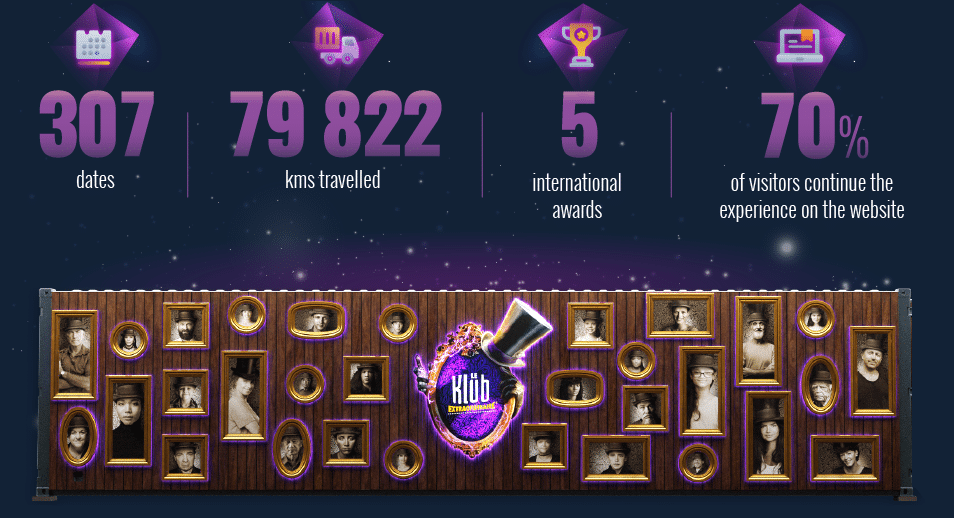 A unique immersive experience
In 2020, immersive experience creator Basile Bohard and studio neodigital collaborated to create the first immersive roadshow for the Centre-Val de Loire Region, revolutionizing the way institutions approach the general public about employment and career guidance. They have created an innovative approach to the world of employment and the problems associated with self-confidence.
An immersive, fun, interactive and inspiring experience, the Klub Extraordinaire offers the general public, as well as every visitor looking for a job or undergoing professional retraining, the chance to discover their talents, but also to draw up a profile to find out a little more about themselves. Pushing open the doors of Klub Extraordinaire means entering a new universe, with its own space-time, values and history. Le Klub is an immersive place where we discover and become aware of the wealth of differences that make up each individual. Accompanied by a mediator, visitors discover a space where wonder and emotion are the keys to self-discovery.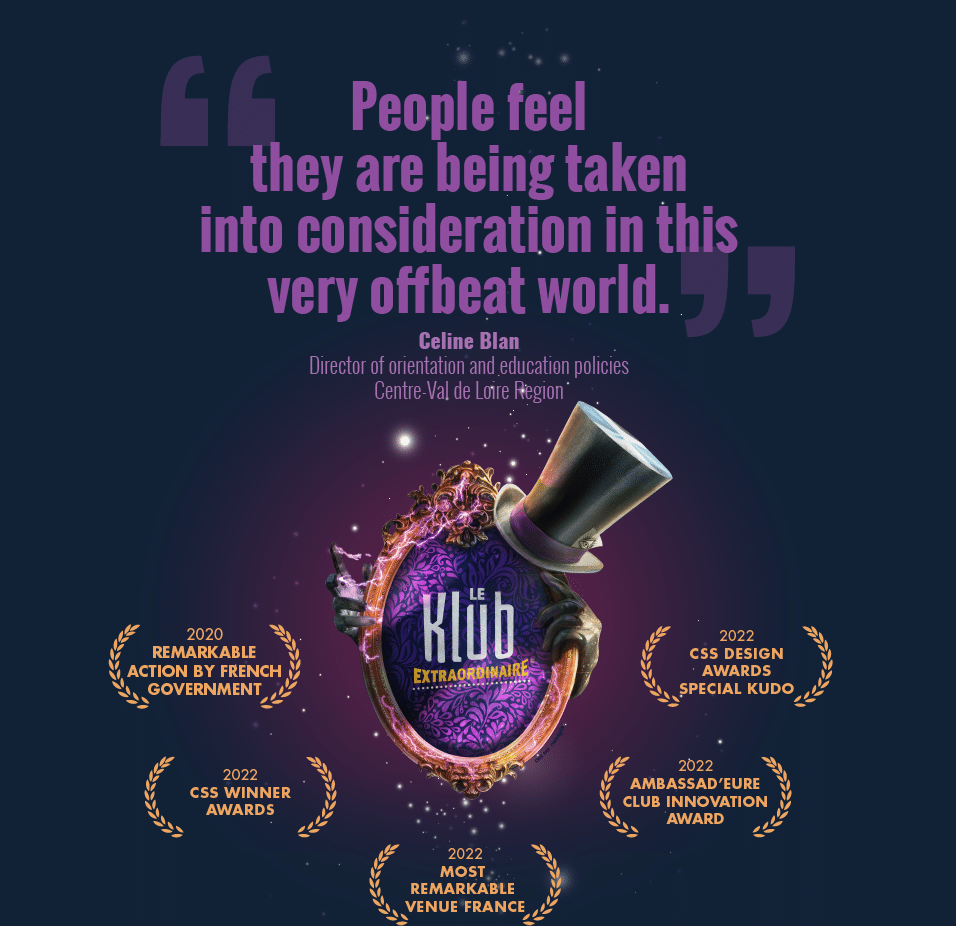 From vision to reality
To achieve the version of Klub Extraordinaire we know today, and to guarantee the quality of the experience, we implemented a multi-stage process.
Design: this is the time to open up new creative possibilities, build a global working perimeter, and think through the various stages and processes of the project. Supported by scientific experts, employment professionals and the Centre-Val de Loire Region, Basile Bohard and his teams have created a unique system in which narrative and visuals play a key role in engaging future participants. This experiment took place in a 12 m-long, 30 m² container, accommodating between 7 and 15 people per 45-minute sequence, in the presence of a mediator/actor.
Design andplanning: from concept to design! This is where we enter the phase of creating the designs for all the elements of the project to be executed, from the visual universe to the desired feeling, including the selection of appropriate technologies (mapping, tracking, holograms, etc.), the technical configuration and overall artistic direction (script, scenario, 3D visualization), as well as the lighting plans, the drawing of visuals, the design of templates and architectural plans, to name but a few examples. As Le Klub Extraordinaire is open to the public, every idea must comply with ERP regulations.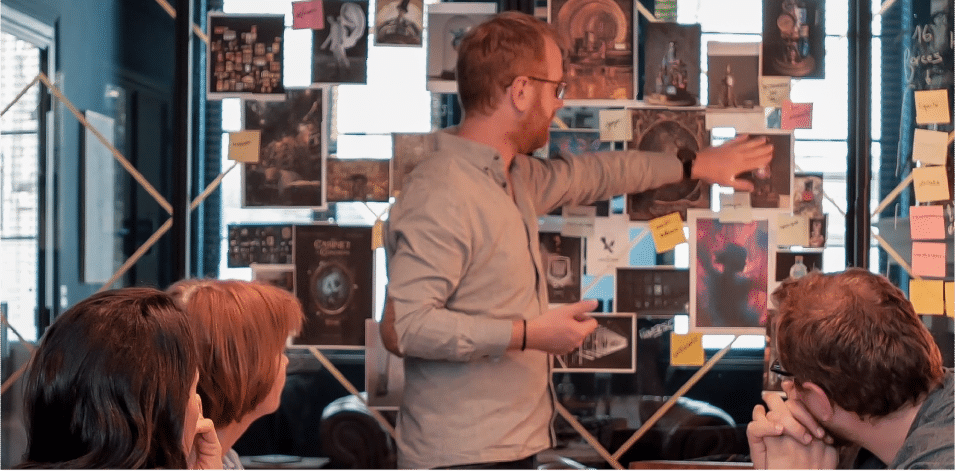 Construction and manufacturing: the Klub Extraordinaire is an artistic, technological and, above all, human adventure, orchestrated by neodigital's project management teams. In the process, many talented people worked to build it! Thanks to the expertise of craftsmen, consultants, design offices, etc., the concept has become a reality! The various elements of the project were executed as integral parts of a single plan. Scenography, lighting, music, sound, interactivity and 3D took possession of the premises and brought the Klub Extraordinaire to life.
Theoperation: inaugurated on September 17, 2020, this immersive, interactive roadshow is touring the roads of the Centre-Val de Loire region, with 250 dates on its agenda until the end of 2024! The tour, orchestrated jointly by neodigital's Exploitation department and the Region's and host cities' services, goes as close as possible to local residents, whether in urban or rural centers, during major events (Printemps de Bourges, 2000 Emplois 2000 Sourires…) or more local events (Mosnes en fête, Hackathon de Chartres…)!
Following this process, our team of experts took the unique vision of creator Basile Bohard and turned it into a unique tool dedicated to the discovery of one's soft skills and aptitudes.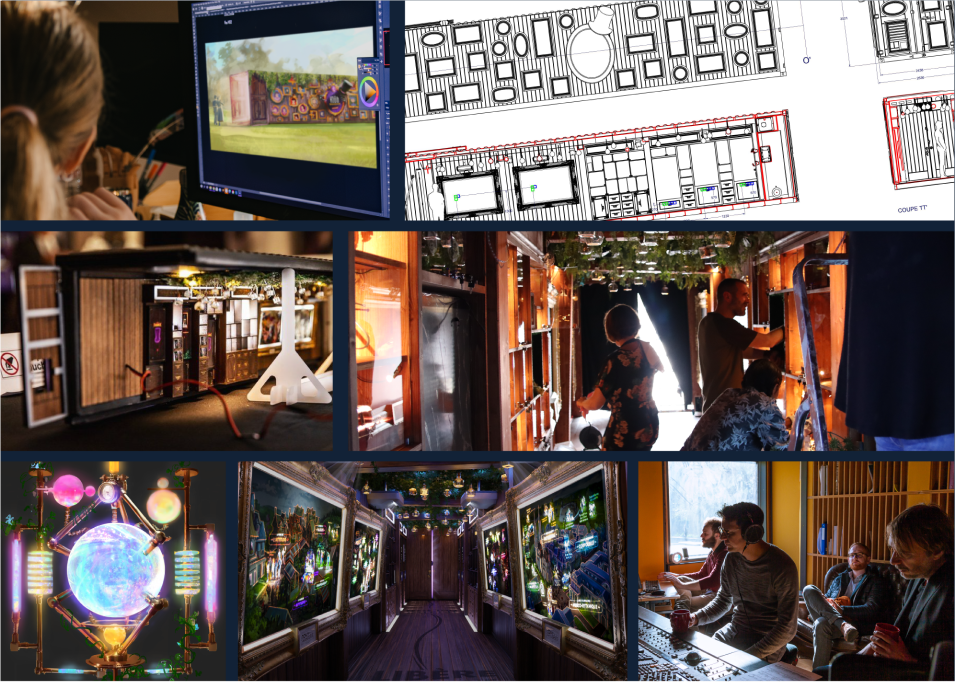 An adventure that continues on the Web
Each visitor has the opportunity to deepen his or her knowledge and explore his or her personality through our custom-designed web platform. In the Members area, new playful experiences enable them to further refine their profile and self-knowledge.
Le Klub Extraordinaire is a multi-stage, data-driven experience.
The first step is to visit the roadshow. The visitor, the actor of his or her own discoveries, explores what makes up an individual's personality through a series of interactive panels. He then performs the intelligence games/tests, via interactive augmented reality boards, to identify his dominant intelligences.
The second step is to create a detailed personal profile. A virtual extension of the experience, it takes place on the Klub Extraordinaire web platform. It invites visitors to refine their self-knowledge through new playful experiences, with the aim of confirming or questioning their career choices. During this stage, a number of activities are available to map each person's constituent skills through play.
The final step is to if the visitor expresses the need, to meet with employment professionals. This enables us to challenge them in order to propose the offers, or training courses, best suited to their profile.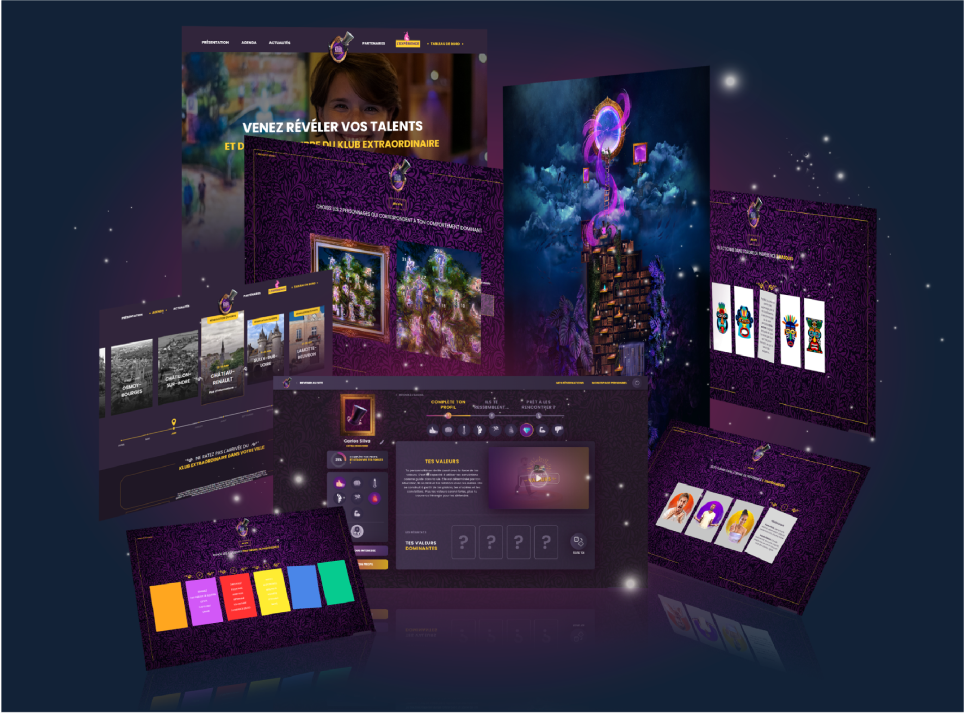 In order to comply with the KPIs (Key Performance Indicators) to which the neodigital studio has committed with the Centre-Val de Loire Region, Klub Extraordinaire is equipped with several proprietary solutions for collecting and analyzing anonymous data in compliance with the RGPD. When users take part in the experience, they provide valuable information about their personalities, knowledge levels, interests and aspirations through interactive activities. This data is used to establish visitor personalities.
This experience, built by our narrative experts, is articulated in the manner of a conversion tunnel, leading visitors, step by step, to restore their trust in the institutions that have taken them seriously and listened to them. The Klub achieves a record conversion rate of 70% of visitors having completed the first two stages – physical and digital.
Phygital communication
Our Communications department has created a truly phygital communications strategy around Klub Extraordinaire (marketing, creative and operational), a pragmatic action plan and appropriate communications tools. With the aim of immersion, transmitting values and inspiration, these tools involve a broad spectrum of the know-how accumulated by this department since 2010 through national communication campaigns.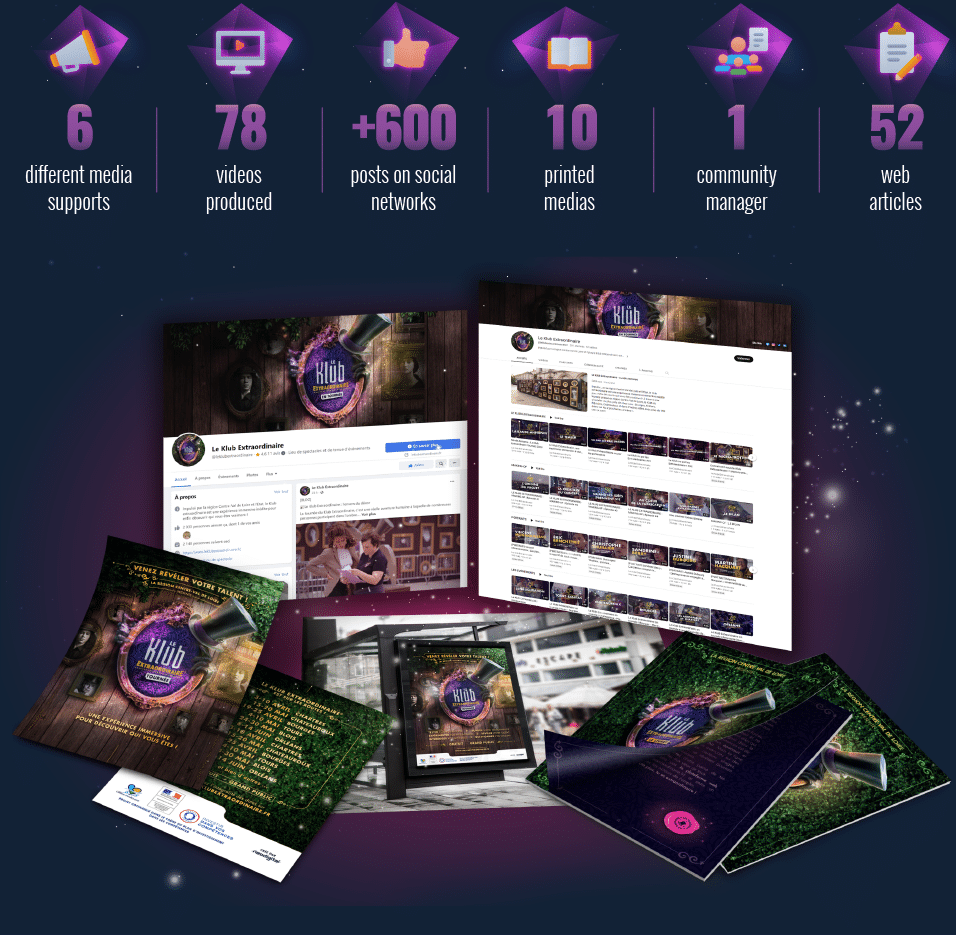 This includes: the creation of multi-media poster campaigns, the production of an educational booklet given to each Klub visitor, inspirational videos in which personalities talk about their career paths and explanatory videos, as well as campaigns on social networks and the development of technical support for visitors to extend their experience on the web.
This way of managing all communications, across all media, enabled us to maintain the ambitious editorial line of the project and guarantee continuity in the ROI objectives to which the studio committed itself with the Region. It has also ensured that history and immersion are always present, never diluted by institutional discourse.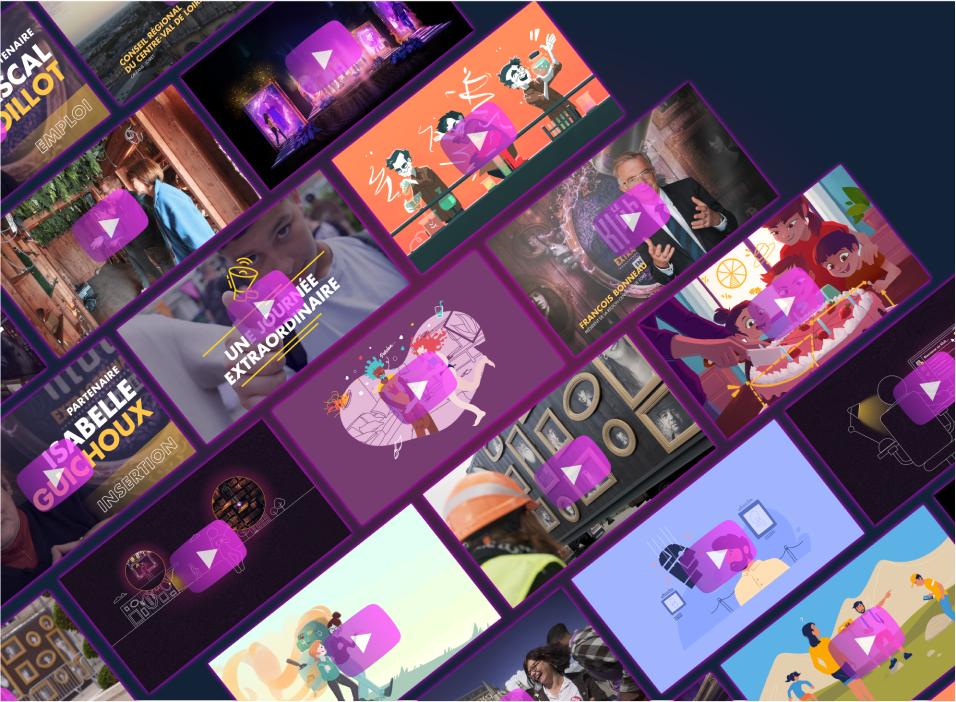 A turnkey tour
Whether in the countryside or in the cities, at major events (Le Printemps de Bourges, the Foire de Tours, the Salon de l'emploi…) or local events, Klub Extraordinaire travels close to the people, with over 60 dates a year in the Centre-Val de Loire region alone. To ensure that our customers' experience is a seamless one, our Operations department and its own staff directly manage the entire tour in the Centre-Val de Loire region. From city to city, our logistics project manager takes charge of the entire design and management of the transport plan, from logistics to on-site installation, while taking into account the time and productivity requirements of a tour.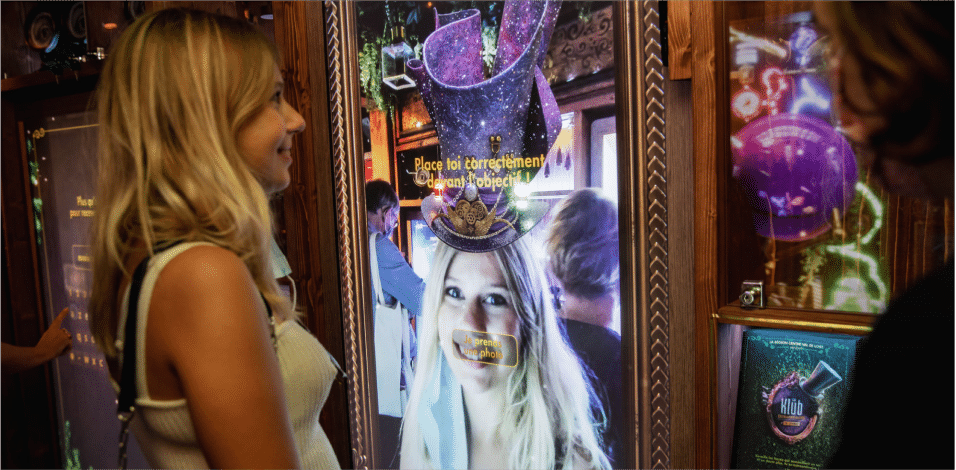 Because the immersive experiences we design and deliver are used for professional purposes on a daily basis, subject to constraints of productivity and continuity of service, as well as security of use, we have imagined and developed a number of operational services deployed in particular as part of Klub Extraordinaire :
logistical and regulatory management of the project (coordination, transport plan, transport, handling, insurance, formalities and authorizations, stewardship);
animation and mediation of the experience by in-house staff specifically trained in the system (design of animation and acting sequences, pedagogical progress, quality control, training of facilitators, etc.);
After-sales service and curative, preventive and predictive maintenance;
Global communications (public relations, content strategy, press relations, relations with influencers);
administrative and financial management.
This immersive roadshow has been designed to evolve over time and adjust to visitors' needs. Thanks to the data collected from the 250 public visits already carried out, our teams have been able to adjust travel plans, optimize project operations to exceed expectations and offer an unforgettable experience, and limit the project's environmental impact by optimizing travel and reducing its carbon footprint.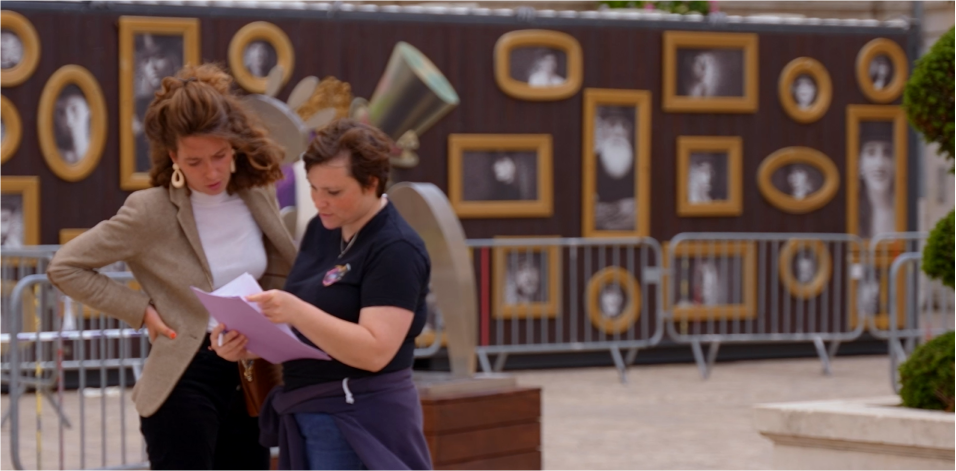 French know-how and excellence
There can be no performance without very high standards. To create this unique experience, we brought together a multitude of talents with multidisciplinary approaches under one roof. We built a hybrid collective to support the imagination of creator Basile Bohard. More than forty different trades collaborated with talent on our creative, educational, technical and technological challenges: narrative designers, film directors, concept artists, engineers, UX designers, motion designers, carpenters, architects, decorators, painters, electricians, air-conditioners, welders, 3D/2D computer graphics artists, illustrators, lighting designers, developers, and more. By joining the adventure, each partner is committed to finding the best solutions, rather than reusing the same old ways of doing things. It's what sets us apart and gives us the means to create original designs never seen before.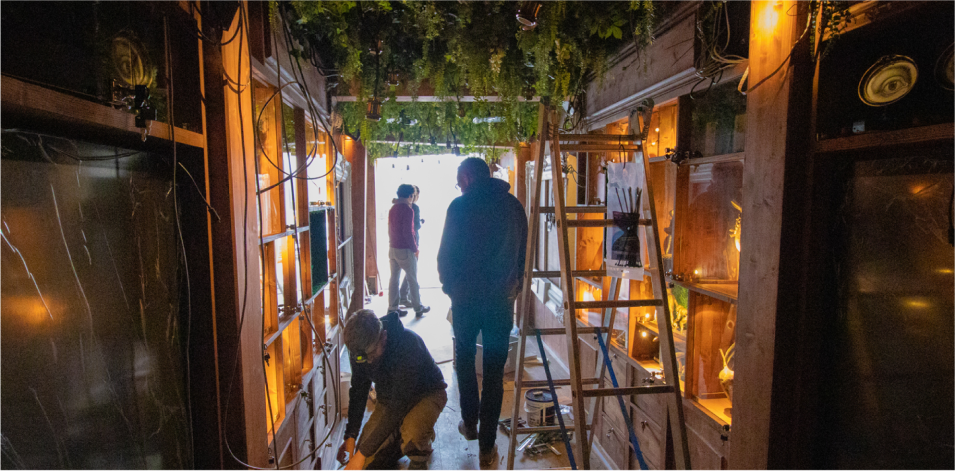 This quest for French excellence has been rewarded with several national and international awards, including, in 2020, the "remarkable action" label – a distinction awarded by the French government. And more recently, alongside other big names in the Location based Entertainment industry, such as the Fondation Louis Vuitton, Le Futuroscope and Le Puy du Fou, Le Klub Extraordinaire was awarded the Hidden Gen France 2022 prize in the Remarkable Venue Awards, a competition which recognizes the best museums and tourist attractions in many countries around the world.
Acting on what really matters to us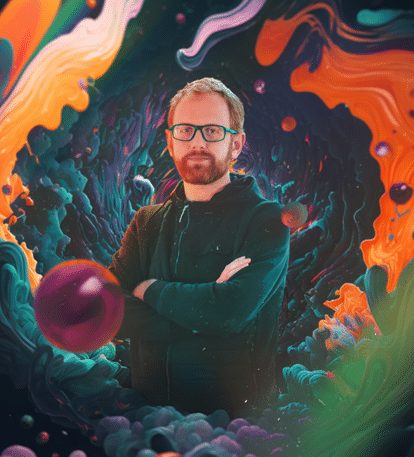 "Change is triggered by initiatives that lead individuals to reconsider their perception of themselves and, by extension, of the world they shape day after day.
It was from this shared vision that the collaboration with the Centre-Val de Loire Region was launched to create a project that would be different from existing schemes. The result is a unique venue in Europe which, in its approach and form, turns the industry on its head!
At neodigital, we act on our values and believe that, through impactful experiences, we will make a difference for our community and our society. We're optimistic about the future. And while it's still far from perfect, collectively, every day, we're taking another step in the right direction."
Basile Bohard – Creator of immersive experiences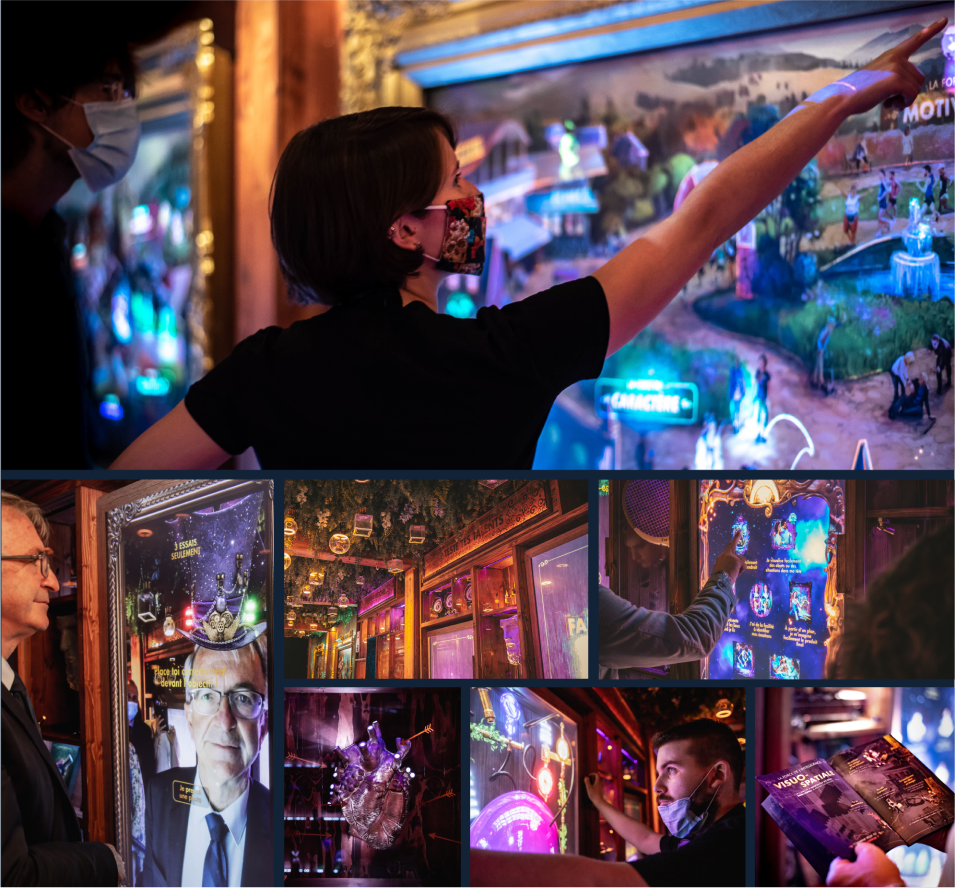 Find Le Klub extraordinaire on the website www.leklubextraordinaire.fr and on social networks.
If you have an immersive tour/roadshow project, or simply want to create a unique immersive experience, we' d love to hear from you!