In France and Europe, this mobile experiential space supports companies and their employees as they embark on their digital transformation. Created in the form of a container, the digital toolbox provides companies and the general public with a unique learning and discovery experience around technological issues in business and everyday life.

Digitization, a major issue in the French business ecosystem
The digitalization of companies has been a major issue for several years now. With the advent of technology, companies have to adapt to stay competitive. In particular, this translates into digital transformation, which aims to modernize processes, optimize performance, improve the quality of products and services, and deliver a better customer experience. However, the current state of digitalization in companies is mixed, as many are encountering difficulties in completing this transformation. Despite the many existing solutions, such as project management software, online collaboration tools, digital marketing platforms and Artificial Intelligence, companies still have to deal with issues of cost, employee training and data security. Nevertheless, it is clear that digitalization is inevitable, and that companies must adapt to survive in an increasingly connected world.
The challenges of digital transformation for businesses: current issues and stakes
The current state of digitalization in companies raises a host of issues. First, there's the need to adapt to new technologies to stay competitive in the marketplace. Secondly, we need to manage the transition to digital technology internally, including employee training and the incompressible time needed to integrate the changes. Cybersecurity is also a major concern, with cyberattacks on the rise. Finally, there's the question of digital transformation, which should not be seen as a simple deployment of technologies, but rather as a cultural change that involves all the company's players.
But how do you get your teams involved from the very first stages of integration? How do you find your way around this vast ocean of technology?
The digital toolbox: an innovative solution for digitalizing businesses
The digitalization of businesses is a major challenge today, but it can also be a source of difficulties for companies that lack the tools and skills needed to successfully complete their digital transformation. Neodigital and Basile Bohard have developed an innovative solution to meet these needs: the digital toolbox container. This platform offers a range of tools to help companies digitalize their processes and improve their operational efficiency. The container also offers a simple, intuitive user experience to facilitate employee adoption of these new tools.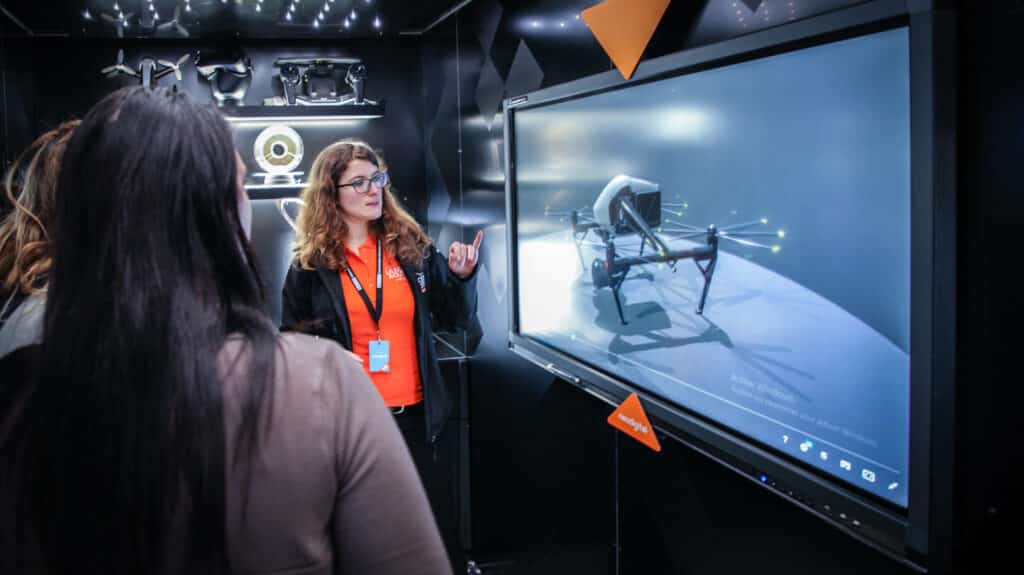 One of the main advantages of the digital toolbox container is its modularity. Companies can choose the tools best suited to their specific needs, and easily integrate them into their existing systems. This modularity also enables companies to adapt quickly to changes in their environment and continue to innovate in their digital transformation. What's more, the digital toolbox container is designed to be scalable, enabling organic growth in the use of these tools over time.
Another important feature of this solution is its ease of use. The tools offered in the container are designed to be intuitive and easy to use, even for employees who are not technology experts. This reduces the time needed to train employees in the use of these tools, and quickly maximizes their productivity.
Finally, the digital toolbox container offers enhanced security for company data. The tools are designed to guarantee data confidentiality and security, using the latest cybersecurity standards. This allows companies to focus on their digital transformation with confidence, knowing that their data is well protected.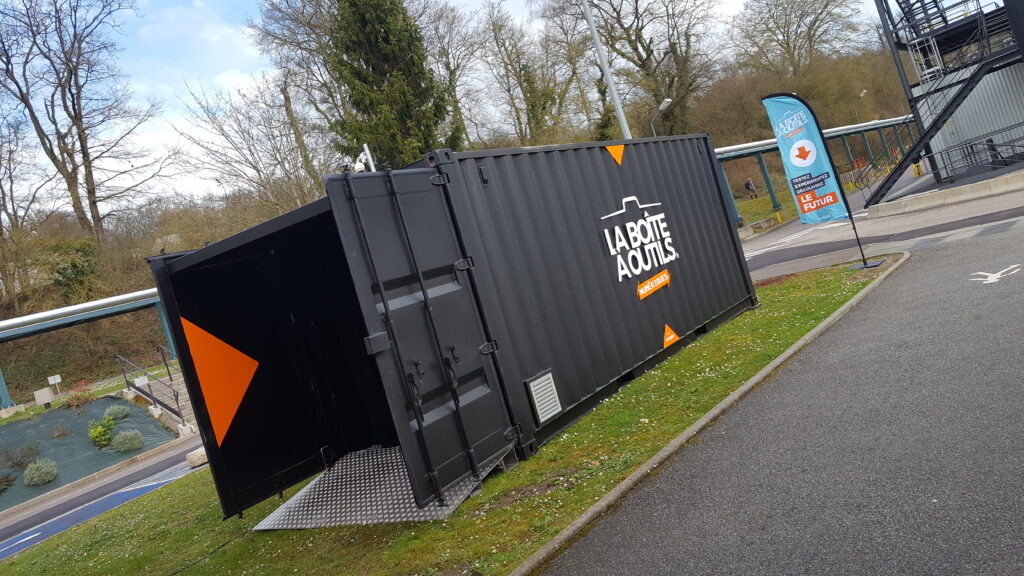 The Digital Toolbox is an innovative and adaptive solution that enables companies to make the most of their digital transformation. Its modularity, ease of use and enhanced security make it an indispensable tool for companies seeking to improve their operational efficiency and remain competitive in a constantly changing environment.
User experience at the heart of immersive experience design
The user experience is at the heart of the design of our digital solutions. The Digital Toolbox has been designed to be easy to use and understand for all types of user, whether new to digital technologies or experienced. Using a user-centric approach, neodigital has created a solution that meets users' needs, while delivering an immersive and enjoyable experience.
By working closely with industry experts such as Samsung, HP, Dassault Systèmes, HTC and Google, and by continually investing in research and adapting its solution over time, neodigital is able to create innovative digital solutions that meet visitors' ongoing needs. The digital toolbox is an example of neodigital's ability to use technology to create practical, effective solutions.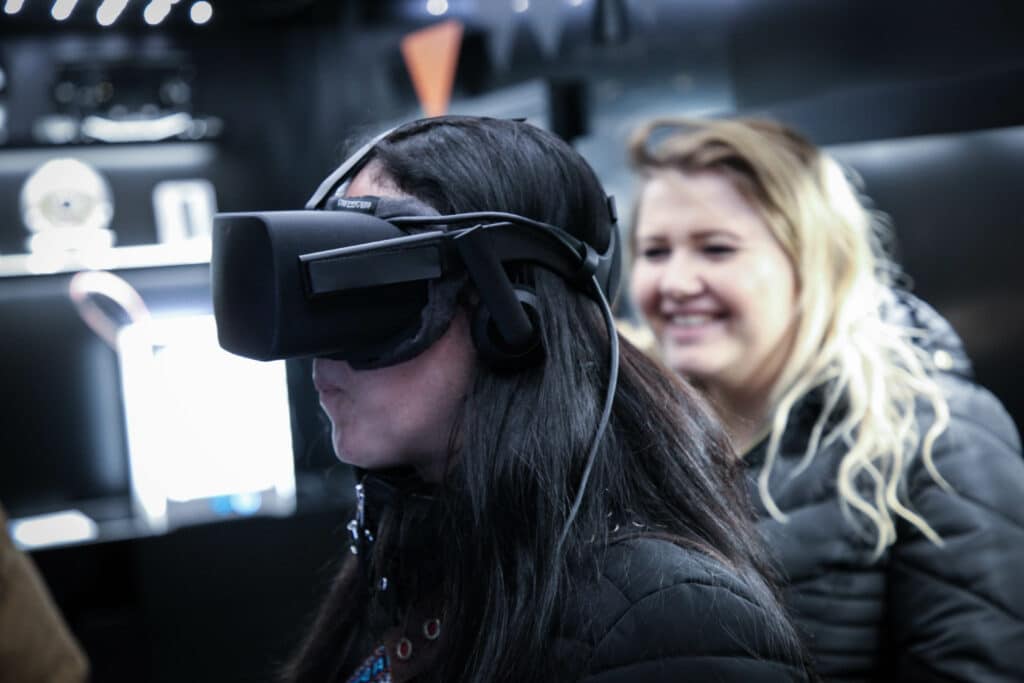 The presence of a mediator in the digital toolbox developed by neodigital is a real added value. The role of this mediator is to help users get to grips with the tool and understand the issues involved in digitizing businesses. Thanks to his expertise, he can answer users' questions, help them choose the tools best suited to their situation, and support them in implementing these tools within their company.
The presence of a mediator is a guarantee of quality for the immersive experience. It testifies to neodigital's determination to offer a high-performance tool that is accessible to all, whatever the user's skill level. Thanks to this presence, users can be supported in their digitalization process, which can save them time and efficiency in implementing their digital strategy.
A mobile solution for businesses
The digital toolbox was entirely managed by the neodigital teams, not only in its manufacture, but also in its operation, with complete management of the mediation teams, tour organization, communication and community management.
This team of talented people, led by Basile Bohard, helped us to design a relevant and comprehensive project, meeting our customers' needs and offering a quality service that respects the constraints specific to companies, but also to make our employees aware of new approaches and new ways of doing things in their professions.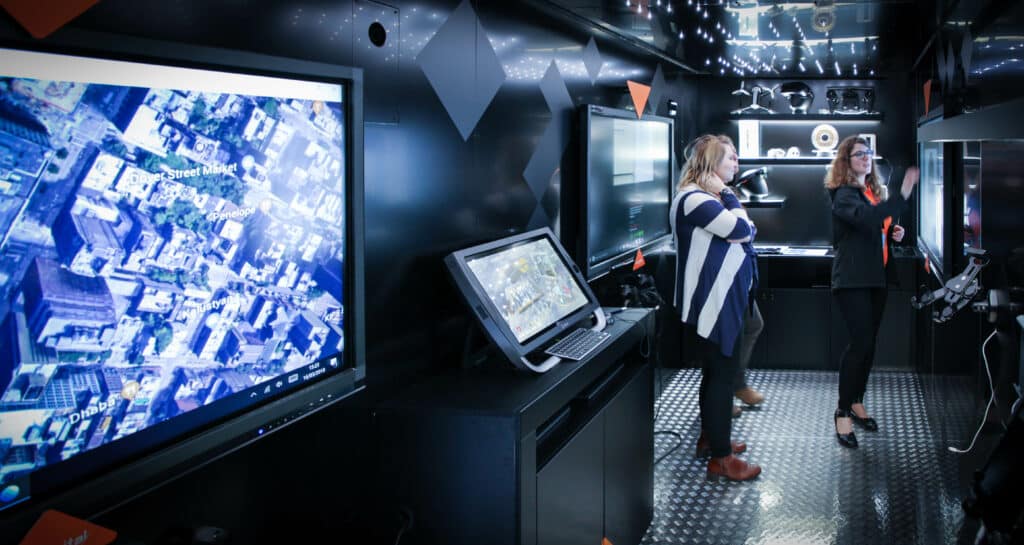 The digital toolbox, a success in France and Europe
Companies are increasingly looking for differentiating and innovative solutions in their approach to the public. neodigital offers tailor-made solutions, tried and tested on test panels, and adapted to each audience. As with all our projects, we offer a ROI (return on investment) and data-driven approach, using a wide range of tools during and after production to guarantee the effectiveness of our products and their longevity over time.
These range from cognitive science concepts to data science and analysis, as well as marketing and educational approaches.
If you too would like to create an immersive mobile experience that reflects your identity, contact us and let's talk.