A project of immersive, illuminated and multimedia night walk in the heart of thearboretum of Harcourt, in the department of Eure!
The health crisis caused by Covid-19 weighs heavily on the events sector, it leads the public authorities and the professionals that we are to co-construct concepts of events different from those usually produced. Once the events are authorized again, neodigital and its creative teams offered to the Eure department a unique immersive project!
A memorable immersive experience…
Harcourt Illuminated is a concept of immersive, illuminated and multimedia night-time tour that could take place in the heart of the Harcourt arboretum, in the Eure department. This magical and unusual experience would invite visitors to enter a universe inspired by fantastic legends.
… mixing fun and learning…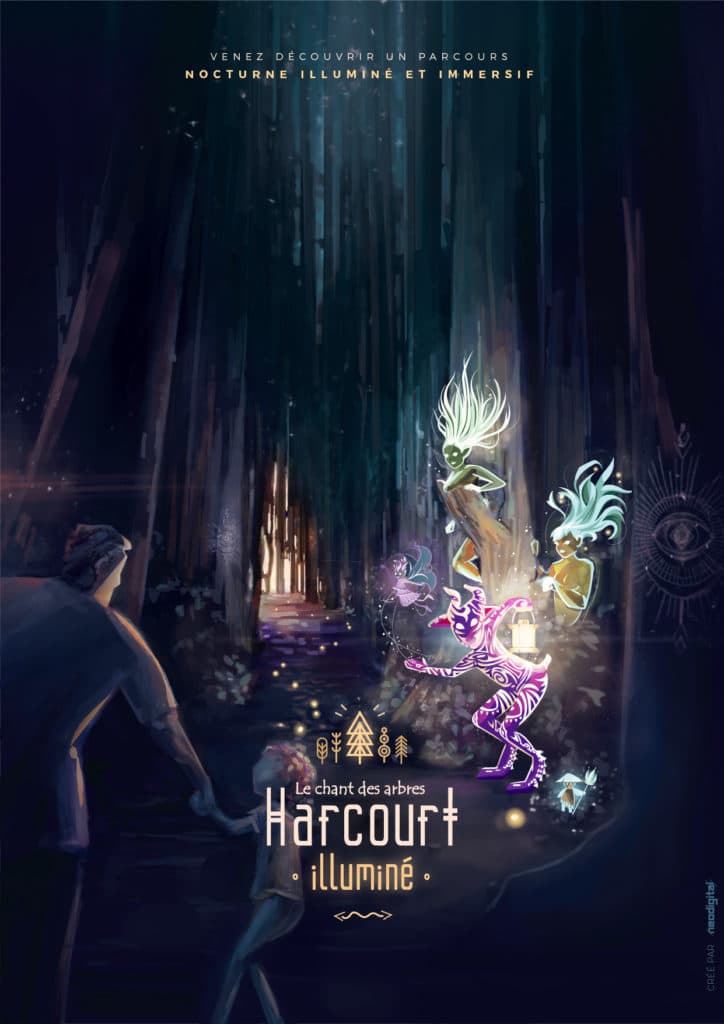 Emotion, pleasure, are at the heart of learning and awareness of our environment through Harcourt illuminated. In this context, the entertaining nocturnal experience will be accompanied by a daytime discovery tour for schoolchildren and free educational tools for them during the visit, and then later at a distance. Educational booklets will be available for teachers to prepare the visit.
… in the context of the Covid-19 pandemic
This project of a new kind integrates, upstream of its realization, the taking into account of the respect of our environment and the new problems related to the pandemic of coronavirus (Covid-19)!
For visitors, this translates into the implementation of the following measures:
An optimized and guided nocturnal journey thanks to the creation of a story and adapted immersive contents putting forward the image, the sound and the corporal interaction in the space.
We will build immersive visual worlds and tailored stories so that the experience allows you to respect a sanitary spacing (more than 2 m) while having the possibility to live a collective experience. Thanks to the technologies developed by the neodigital agency, you will be able to interact with our worlds without physical contact in a real space.
A flow and a number of visitors controlled thanks to the compulsory remote booking via a dedicated online booking platform.
The setting up of several performances in the same evening.
Cleanliness and health measures with the provision of sanitary protections (protective mask and hydroalcoholic gel for all participants, accompaniment of visitors, security team, systematic cleaning of spaces and important water points).
Emphasis on the respect of the environment with a reflection and concrete actions on the sustainability of an event (exclusion of single-use elements, biodegradable materials, sorting bins).
Despite the Covid-19 health crisis, neodigital is transforming itself and is bringing together in Bernay a new team of creative talents from several international studios in various fields (scenography, immersive content, interactivity, etc.). With this ambitious collective, we reinvent every day the way to transmit knowledge to audiences by creating immersive & interactive experiences out of the ordinary(urban activation, interactive exhibition and installation, sound and light, immersive road show, attraction, …).
We are convinced that the wonder and emotion that we bring out in everyone is the best way to make as many people as possible want to learn.

Basile Bohard – Creative Director