Mysteriia station will be an original and unusual venue dedicated to hosting the craziest team events in top-of-the-range comfort all year round: Meetings, study days or half-days, seminars, board meetings, training, team coaching, general assemblies, product launches, conventions, trade shows… This unique venue, under the creative direction of Basile Bohard, will be created with the sole aim of enabling everyone to create, dream, build, share and imagine other possibilities in an astonishing and highly creative 1500 m2 environment.
Here, thanks to a hotel-museum, an immersive restaurant and unusual workspaces, the aim is to fill up on inspiration, new ideas and memorable encounters.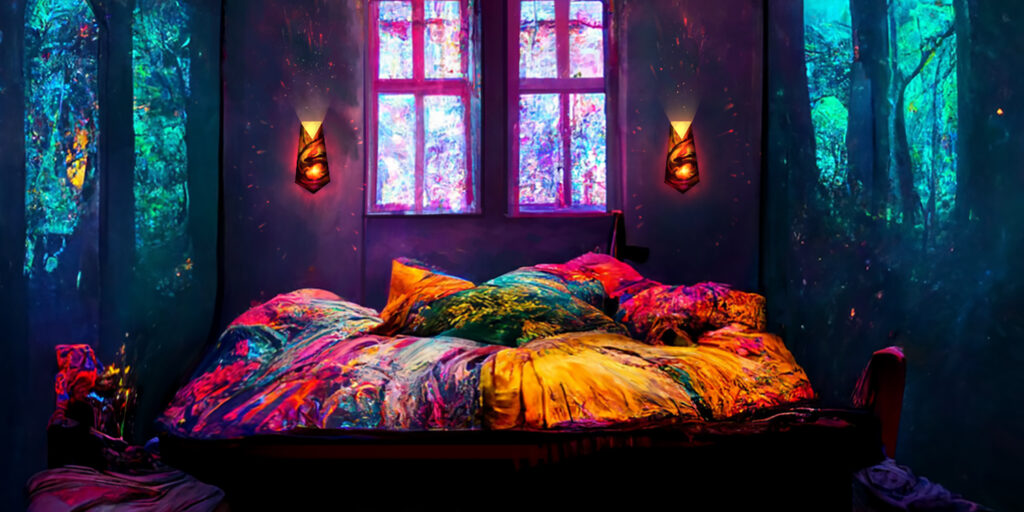 A hotel offer in search of novelties
Over the past few years, the hotel industry has undergone significant transformations, marked by the rise of social networks, and the growing expectations of residents in terms of hyper-personalization and well-being, as well as ecological expectations and cine-tourism, for example. Hotels have realized that it's no longer enough to simply provide comfortable rooms and basic services to satisfy the needs of modern residents. It is now necessary to create moments. Unforgettable spaces and experiences that will leave a lasting mark on visitors' memories.
Immersive hotels have emerged as a major industry trend, offering more immersive and personalized experiences to residents. These hotels are designed to offer a unique travel experience, combining comfort and luxury with interactive facilities, art installations and innovative living spaces.
Residents are also increasingly interested in personalizing their stay. Hotels must now offer services and facilities that meet residents' individual needs, whether for food, wellness, culture or leisure. Immersive hotels are often designed to offer a personalized experience, with services tailored to the needs of each resident.
In this context, how can I attract and retain visitors to my hotel over the long term? Can I stand out with a hotel in an increasingly competitive industry? How can we improve the customer experience?

Arrive as you are, leave transformed
This place will offer a bubble free from pressure and competition. No results are expected. Creativity is welcomed as a valuable, lifelong skill.
If you're one of those leaders who want to break new ground and pave the way for the future, Mysteriia station is for you.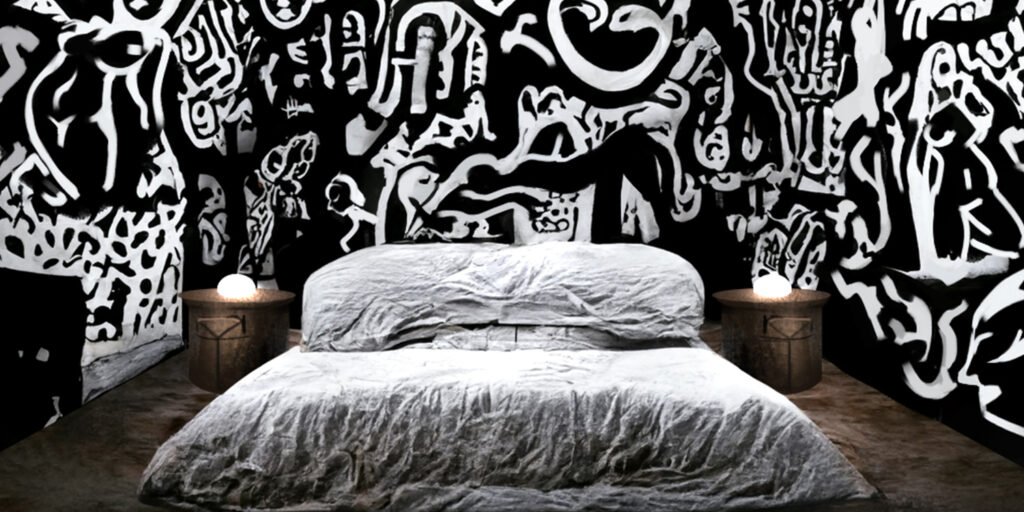 Think before you walk through the mysteria door, because you're about to enter a surprising and unusual world, where themed workspaces accessible via several secret passageways are just waiting for your curiosity, your desires and your imagination! Each visitor is invited to choose his or her own path through Mysteria, walking, climbing and crawling through several unexpected environments to reach a work meeting, a codir or a creativity session.
From room to room and door to secret passage, this station plunges you into a sophisticated artistic experience and fantastic worlds! At the bottom of the garden, behind a bookcase, on the stairs… You don't really know what secrets Mysteria holds. You'll have access to over 10 hidden workspaces!
Each workspace is equipped with modular furniture to organize the different stages of your seminar, with the constant support of our teams. You can also count on modern technological equipment integrated into your spaces (clickshare, video projectors, WIFI, photo-call…).
A unique place in the world, created by the neodigital teams
To realize Basile Bohard's vision, the neodigital teams put all their know-how at his service. MYSTERIIA STATION's 30 themed, spacious and comfortable rooms offer a unique experience and a complete change of scenery. Fully equipped and self-contained (safe, wifi, minibar, shower and bath), these rooms feature designs by several national and international artists under the artistic and editorial direction of the owner. More than a hotel, it's a real art museum. Mysteria Hotel will be based not only on decoration, but also on animation and immersive experiences.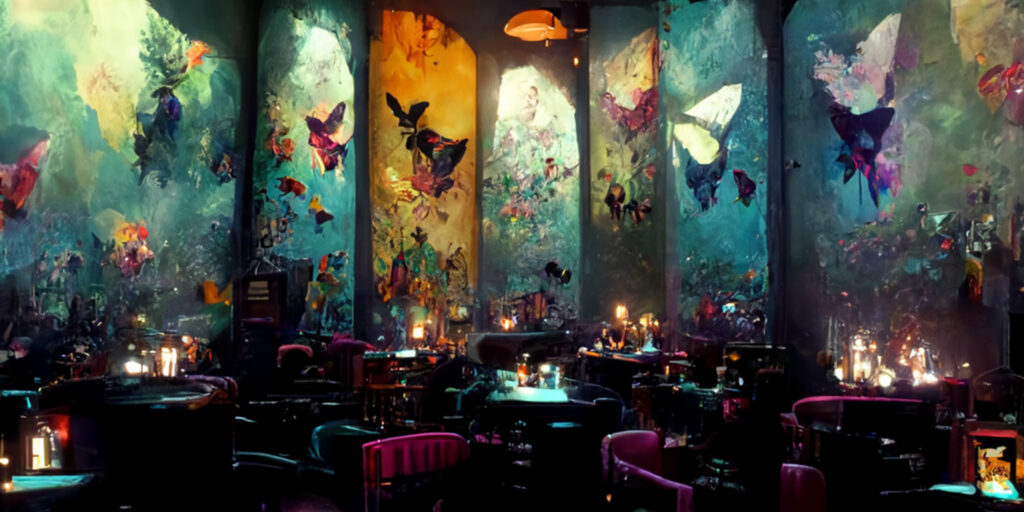 The aim is to immerse visitors in a special atmosphere, for a memorable stay based on artistic expression. For a moment of relaxation and rest, visitors can also discover a wellness area with a heated indoor and outdoor swimming pool, a fitness area, a sauna and relaxation cabins.
Always at the forefront of the future, with this hotel-museum we seek to challenge preconceived ideas about art and inspire new ways of thinking creatively.
A complete project in the midst of fund-raising
The team has put together the entire dossier and is currently in the midst of seeking investors to bring this first iconic, timeless venue to life, offering an experience unlike any other in the world.
If you're looking to invest in an innovative and inspiring project, then Mysteriia Station is the ideal solution for you. Imagine a place where work blends harmoniously with art and imagination, where every visitor is invited to explore, dream and create. Our unique immersive hotel offers an unprecedented experience, where hidden workspaces and secret passageways are just waiting to be discovered. Each unexpected environment is designed to stimulate your creativity and productivity, and our team of professionals is on hand to help you realize your most ambitious projects.
Mysteriia Station is more than just a hotel, it's a place where innovation and creativity are valued and encouraged. We've created this space so that everyone can explore their wildest ideas and turn them into reality. In addition to our themed workspaces, our hotel-museum and immersive restaurant offer unique experiences to inspire and amaze our customers.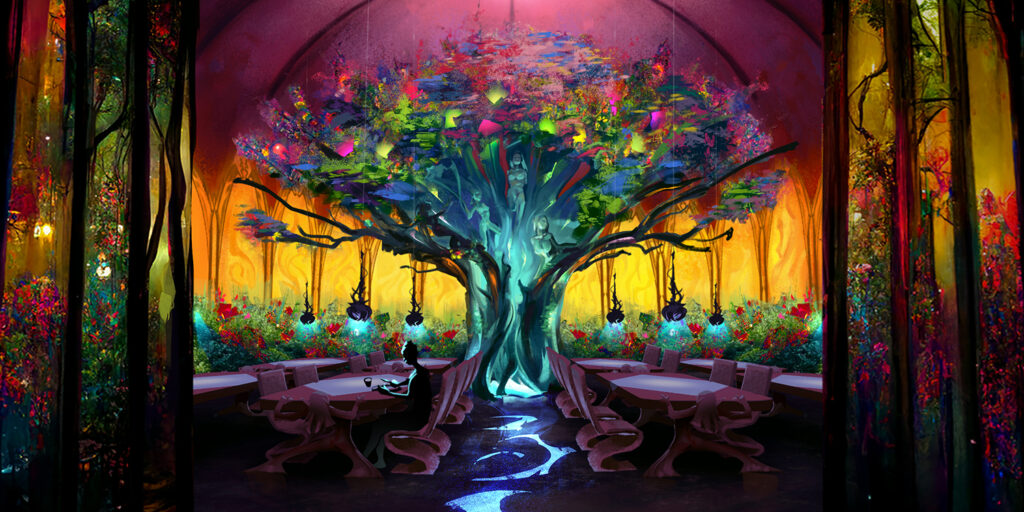 We're convinced that Mysteriia Station will become an essential venue for business events, seminars, training courses and product launches. With a surface area of 1500m2, our facility offers top-of-the-range comfort and state-of-the-art technology to guarantee a unique and memorable experience for every visitor.
Join us on this exciting adventure, and together we'll build the future of hospitality and innovation.
If you'd also like to create an immersive space that reflects your identity, contact us and let's talk.